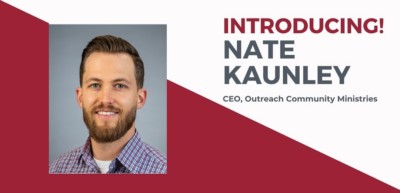 New Season of Leadership Begins with President and CEO Nate Kaunley
For everything there is a season, and a time for every matter under heaven.
-Ecclesiates 3:1
A new era of leadership has begun at Outreach Community Ministries. It is with much gratitude that we introduce our new President and CEO Nate Kaunley who will lead the next generation of caring and compassionate service-minded citizens of Christ.
Following an extensive nationwide search, the OCM Board of Trustees selected Nate from a talented pool of 28 candidates based on his 14 years of non-profit and international business development experience, most recently serving as the Vice President of Marketing and Business Development for Children's HopeChest in Colorado.
"We're thrilled that Nate will lead the OCM team as his experience gives us the ability to grow and thrive as an organization and outstretch our arms to help even more individuals and families in DuPage County," says Jeff Jones, President, OCM Board of Trustees.
Nate is a thoughtful, compassionate leader and trailblazer who brings a wealth of knowledge in the areas of community services, church partnerships, nonprofit management, fundraising and marketing.
Mission-Driven Contributions
In addition to holding various leadership roles at Children's HopeChest, Nate's experience includes serving as Planned Giving and Major Gifts Officer for St. Joseph's College in Maine. He also served as Assistant Director of the Victim Center in Missouri. While still attending Evangel University, Nate completed an internship on the mission field in Nairobi, Kenya. After graduation, Nate and a friend returned to Nairobi to start a non-profit ministry, Dusty Feet, to combat child human trafficking while also providing school-based curriculums. After seven years in Africa, Nate returned to the States with a young family of his own and left the organization in the capable hands of local leaders.
Nate has a bachelor's degree in Sociology and a minor in Social Work from Evangel University and is currently completing an MBA at Cornell University with an emphasis on business analytics and corporate social responsibilities.
"I look forward to working with the Outreach team and those who help us achieve our goals including volunteers, board members, donors and churches so together we can put Outreach's mission into action to help restore hope and provide opportunities to the most vulnerable in DuPage County," Nate says. "Together as a united community, I know we'll continue to answer God's calling to serve others and help those we serve discover their God-given talents are well within reach when they trust in the Lord."
Nate will lead the OCM team while bringing his passion for and calling to serve the most vulnerable. His leadership characteristics and skills along with his faith commitment aligns well with Outreach's mission and values.
Nate says, "Isaiah 1:17 is a verse I have defined my life's work by: Learn to do right. Seek justice, encourage the oppressed. Defend the cause of the fatherless, plead the case of the widow."
Nate and his wife Rebecca "Becky" are excited to join the greater Wheaton community and look forward to settling into a new home, church, and schools with their four young children.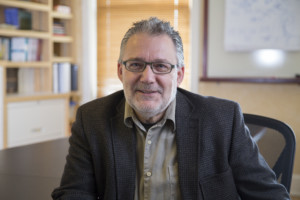 As Nate steps into the CEO role Outreach's current CEO Chris Ellerman will work alongside Nate to ensure a seamless leadership transition. Chris will then move into his new role serving as the Executive Director of Outreach's Legacy Fund with a mission to develop an endowment fund for the benefit of Outreach Community Ministries. He will continue to serve as the Director of Operations of Social Enterprises and oversee a variety of construction projects that are underway. Under Ellerman's leadership as CEO, Outreach has become a substantial organization, sponsoring five faith-based community service organizations in collaboration with more than 25 partner churches, serving DuPage County's most vulnerable residents.
For the past 20 years, Ellerman's work has focused exclusively on ministry leadership and holistic, compassion ministry development. Chris celebrated his 40th OCM anniversary in January 2018 and served as Outreach's first full-time employee and executive director.
"I'm looking forward to working in close partnership with Nate as we continue to help individuals and families be all that God intends them to be," Chris says. "We're extremely blessed and thankful that Kaunley will help us create new opportunities to expand our mission and lead our team in our daily mission to do God's work by serving our community."