What is the Building Brighter Futures Campaign?
The Building Brighter Futures Campaign raises critical support for the WYFS mission of helping vulnerable youth and families in the Warrenville community. Gifts to the campaign support life-changing youth development and family stabilization programs that restore hope and provide opportunities for people to reach their full potential.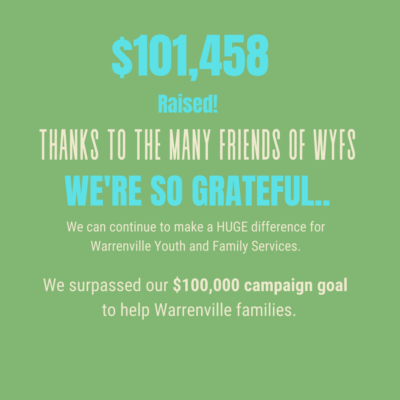 Campaign Goal Surpassed!
Thanks to the many friends of WYFS, we surpassed our 2020 Building Brighter Futures Campaign of $100,000. Every dollar received is immediately invested in holistic programs that give at risk youth and families in our community the opportunity to thrive.
Our Impact
Last year, 456 individuals needed our help, and we were there…because of the faithful support of friends like you who believe in our mission.  To see the difference you are making in the lives of those we serve, we invite you to view our Impact Report. It is inspiring!  We also invite you to view the following video to hear powerful testimonies from individuals whose lives have been transformed through the programs at WYFS.

How You Can Help
The support of the local community is critical to the success of the Building Brighter Futures Campaign. Your generous gift today will help us meet our goal of $100,000 to fund critical programs at WYFS in 2021. Your support is an investment in our mission and will make a lasting impact –  expanding our capacity to empower youth, stabilize families and build brighter futures in our community.
Every dollar given to the campaign makes a difference. Here's what your gift accomplishes:
$300 – $999 | Family Sponsors
Your gift of $300 or more fills the gap for services after families pay what they can afford. Programs include after-school and summer youth services, counseling and case management.
$1,000 –  $4,999 | WYFS Partners
Your gift of $1,000 or more strengthens all youth development and family stabilization programs.
$5,000 or more | WYFS Leadership Partners
Your gift of $5,000 or more provides sustained financial support for Quest and Link Mentoring Youth Development Programs.
Gifts to WYFS can be made monthly, quarterly or on a one-time basis.
If you have been giving faithfully to WYFS, thank you! We hope you will  consider increasing your gift this year. You can do this by increasing your one-time gift, or through a monthly pledge of support that is paid in recurring installments.
If this is your first gift to WYFS, a monthly pledge is a great way to begin your support!
Raffle Prize Winners
Thank You to Everyone Who Participated in this Campaign.
Together We're
Building Brighter Futures

for Warrenville residents.
Drawing 1 – New Family Sponsors
Winner: Jeremy and Jordan Finzel-$300 Amazon gift card
Drawing 2 – $300 Amazon gift card
New donors who make a first-time gift to WYFS of $300 or more via monthly giving. There were no qualifying donors for this category. 
Drawing 3 – New Partners 
Winner: Clint and Valerie Gross -$750 Amazon gift card   
Drawings were held on Wednesday, December 30, 2020. 
When you give to the Building Brighter Futures Campaign, you are changing lives. Every gift makes a difference!
Thank you for your support.
If you have already given a gift, thank you!
Thank You To Our Sponsors!
Lead Sponsor
Dream Sponsors
Hope Sponsors
Opportunity Sponsors